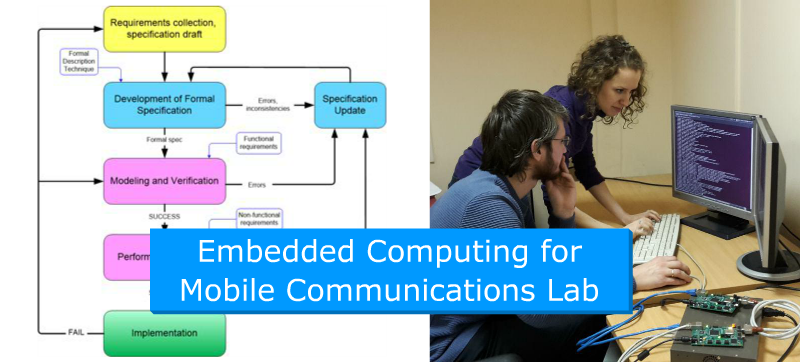 Research and Development areas
Main research area of this laboratory is a development of communication protocols, (aero-)space onboard networks (SpaceWire, SpaceWire-RUS, GigaSpaceWire, SpaceFibre, etc.) and complex systems for design and simulation of spacecraft onboard networks.
Development of communication protocols
Formal and software simulation of the protocols (SDL / SystemC)
Formal and software verification of the protocols
Protocols
The Laboratory for Embedded Computing for Mobile Communications is one of the leading Russian laboratories specializing in SpaceWire protocol development. The EmCoMobile lab develops, updates and works with the SpaceWire for more than 10 years, participating in international conferences. The Laboratory participates in the joint project with the University of Dundee and European Space Agency (ESA).
Related articles
The Laboratory takes part in the development of the Russian national SpaceWire-based standard taking into account the specificity and requirements of Russian space industry.
The Laboratory takes part in the development of the specific SpaceWire version that provides gigaspeed data transmission.
Related articles
The Laboratory takes part in the development of new communication protocols in terms of "SpaceWire-RT" 7th Framework Program and actively participates in further developments and evolution of the protocol:
SystemC simulation of the protocol
Specification and verification with SDL
Analysis and correction of the specification


Related articles

STP-ISS transport protocol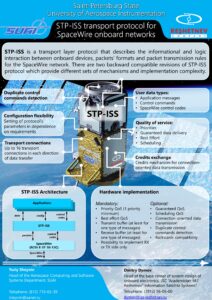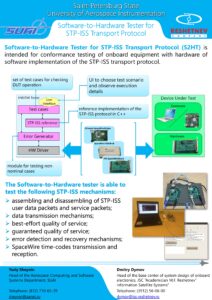 The Laboratory has developed a Workplace for the hardware-software adjustment of SPT-ISS protocol for the functional testing of the onboard equipment with the hardware or software implementation of STP-ISS protocol.
Related articles
SANDS system for design and simulation of onboard networks of a spacecraft
The Laboratory has developed a computer-aided system SANDS – SpaceWire Automated Network Design and Simulation – for the onboard SpaceWire networks in autonomous spacecraft. The system has been developed in partnership with JSC ISS (Information Satellite Systems) Academician M.F. Reshetnev.
Supported communication protocol standards:
SpaceWire (ECSS-E-ST-50-12C)
SpaceWire-RUS
STP-ISS
RMAP

SANDS provides the full flow of automated design and simulation of onboard networks:
Component #1. A component for onboard network topology design and evaluation of its structural characteristics

Component #2. A component for tracking of data transmission routes in the network

Component #3. A component for generation of the scheduling table for the STP-ISS transport protocol for the transmission of the data with scheduled quality of service
Component #4. o A component for multi-level simulation of the operational network